One of my favorite things about publishing Macaroni Kid Chicago Midtown is the chance to connect with other parents in our community. Often times these connections inspire us and remind us of the ability of one person to make a difference. It is with this in mind that I have launched this article series called Parent with a Purpose. My hope is to introduce you to some amazing parents living right in our community who not only are doing unique and wonderful things but also deserve to have some attention brought to their mission.
I'm excited to introduce you to Natalie Monterastelli, a local mom and director/co-owner of Bubbles Academy, a wonderful resource that connects new moms during the critical post-partum period and helps them build their community.

Please get to know this local mom a little better and find out how you can be a part of her purpose!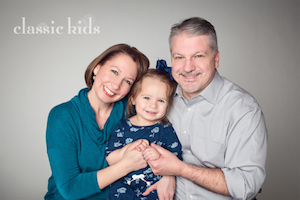 What is your MISSION/PURPOSE? What do you want to accomplish? My purpose through my work with Bubbles Academy and beyond is threefold.I am passionate about arts education, teaching artist development and supporting families. I feel fortunate that my work enables me to move toward goals in all three of these interconnected areas. The early years of a child's development are a key time to support their growth through play, exploration and creative expression. In our fast-paced lives, sometimes the freedom to explore, get messy, make mistakes and be silly can get squeezed out of our days.

My mission is to support the individuality of our students, teachers, and families by providing opportunities for development and just plain fun through music, movement, art, drama, dance, and play. It has been a challenge and thrill to work with our partners and the whole team to move Bubbles Academy to our new location at 2184 N Elston, with more space and classrooms specifically equipped for arts-integrated learning. I also hope to support local artists by providing a meaningful and flexible home for them to apply their talents in the classroom. Parenthood is such a wonderful adventure, but can also be challenging and sometimes isolating, so our goal with Bubbles Academy is to create an inviting atmosphere for parents to learn, grow and connect along with their children.
What inspired/encouraged you towards this mission? Is there one specific moment when you knew this was what you wanted to do? As a young child, I went through a big transition after the death of my dad and a move to a new city with my mom. There was a period of time when I was painfully shy, barely speaking to anyone. It was through a summer theatre program that I began to open up and rediscover my own voice. Through my youth and adult life, the arts continued to play an important role in my development and identity. I went on to pursue musical theatre, eventually transitioning to educational theatre and child development, as my love of children and teaching grew. More recently, I have found great joy in the creative pursuit of entrepreneurship. The opportunity to pursue my passions in a business that helps to support my fellow artists and Chicago families weaves together so many of my past experiences and future goals.

How did your life before children influence the parent you are today? What part do your children play in your current mission? My work as a teacher, performer and improviser has greatly informed my parenting. Rather than stand too rigidly or keep my eyes fixed on a certain outcome, I've learned to maintain a "ready for anything" posture. This can be a big help in responding to children, as they are not big fans of succumbing to a specific plan or agenda - especially during the terrific twos stage my daughter is in. ;) Kids have an amazing sense of humor and are ready for fun and silliness at every turn. Taking time to just be silly with my little one, no matter how busy or stressed I may be, helps me maintain my flexibility and silliness in my work - an important ingredient for a place like Bubbles Academy! Noticing my needs and hopes as a parent has also helped me to have a better understanding of how we may better serve children and families. My daughter also comes to work with me three days per week -- and asks to "go to Bubbles!" every other day, so she is a great inspiration in terms of making sure we're staying true to our spirit of whimsy and engagement. When she is excited to come back after spending a full day at work with me, I know we're on the right track. :)
What do you do to take care of yourself and how do you make time to do it? I am grateful for my supportive family who helps me pursue my passions, even when it means working crazy hours, a messy house or take-out meals. Finding balance and time for self-care is not easy, but my husband is my number one cheerleader and never hesitates to help out around the house or listen to the details of my day. For me, having a partner and extended family who "gets it" is definitely key. We like to unwind with long walks through the neighborhood, preferably with a lunch or dinner destination in mind.

What can we do to support you and your purpose? My purpose is supported when families choose to frequent local business and the wealth of arts outlets and opportunities we have here in this city. Also, I encourage parents to trust that our young children learn best through art, play, and experience.

If families would like to experience a free trial class at Bubbles Academy or a free concert or story time at one of our partner businesses, they may find the full scoop at bubblesacademy.com.
So inspiring to learn more about this local businesswoman and mom!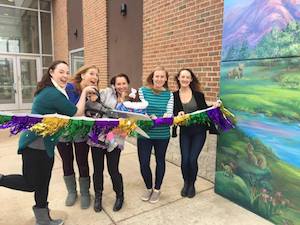 Macaroni Kid isn't the only one impressed by these local parents. I'm happy to be able to offer goodies from other Chicago local businesses
to Natalie to thank her for our work in the community. Thank you to these awesome sponsors for helping me recognize Natalie and all of our Parents with a Purpose!

Do you know someone who fits the Parent with a Purpose bill? Maybe it's your neighbor, friend, child's teacher - send them our way! All you have to do is email me their name, email and why you think they're perfect for a Parent with a Purpose feature and I'll take it from there!