On a two week break from school and enduring a (very) cold snap here in Arkansas, I came across this craft idea. I decided to give it a try with my daughter as there are literally NO purchases necessary and it also incorporates physical activity...something we needed after overindulging in the holiday season! I also love that this craftivity is appropriate for all ages, so if you have multiple children of different age groups, it will still be loads of fun.
We pulled out all of our pie pans (you could use any shallow container.) We needed something to serve as the hanging loop on each ice light catcher, so we simply used some leftover holiday ribbon (plenty of that lying around.) I also used a clothespin to attach the ribbon to the pie pan so it would stay under the water and freeze properly. That's it! Everything else we found in nature. We bundled up and traipsed around outside in our neighborhood. We collected pine cones, walnuts, acorns, various pine needles and greenery and even found some brightly colored berries! You could also incorporate birdseed into this, but we did not have any so we stuck with our bounty from nature and some citrus fruits we had.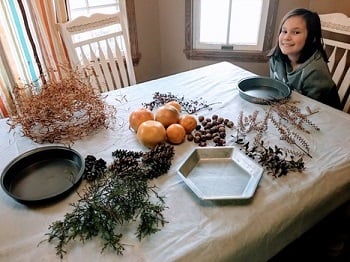 Once we returned home, we laid everything out on the table and placed our items into the pie pans, creating our own unique designs. Some tips: the more decorations you use, the less things will shift around when you pour in the water. If you use citrus fruits, cut off the top and bottom so it is flat on both sides. If you don't, the ice may push the rounded fruit right out of the design when it freezes! Once we were happy with our designs, we moved our creations outside to a flat surface and (slowly) poured in about an inch of water. I learned afterward that using distilled water will give you crystal clear ice, but we just used tap water this time.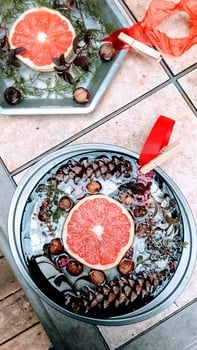 Next we waited...and waited...for our ice light catchers to freeze. This is a multiple day project, depending on how cold it is where you live! For us, it took 2 days for the designs to fully freeze. We brought them inside and placed them very briefly in a warm water bath. This helped them to release easily from the pie tins. Then we simply hung them up in the light to enjoy until they melted away!