I am no stranger to mail order meal services - in the past 13 years, I have tried many of them, all for various reasons. First, there was the celebrity endorsed meals to help me lose weight - but they were frozen meals, heavy on sodium and light on flavor and that experiment did not last long at all. Most recently, during the late stages of pregnancy and early days of new babyhood, there was another fresh-food start-up service my husband signed us up to try. The food was delivered fresh and there was a lot of variety, but it wasn't too long before we were getting the balance back in our lives and uneaten meals were piling up in the fridge, so we put a hold on our account.
We are a busy household always on the move - a husband who travels for work, an elementary aged kid busy with school and activities, a toddler who is just BUSY from the minute her feet touch the ground in the morning and me - a mom who just began a new job. Add in a dash of holiday craziness and you will find a family scratching their heads trying to figure out where we need help and adjustments made.
For me, it was easy to see, as I nibbled on my daughter's lunch leftovers, or grabbed a bagel for the umpteenth time as a quick bite, that my own health and nutrition were suffering. In a state of constant motion, I was so focused on making sure everyone else was having their needs met that I was forgetting about the person responsible for holding it all together - ME! When the opportunity for a trial membership to GoReadyMade was available I didn't hesitate.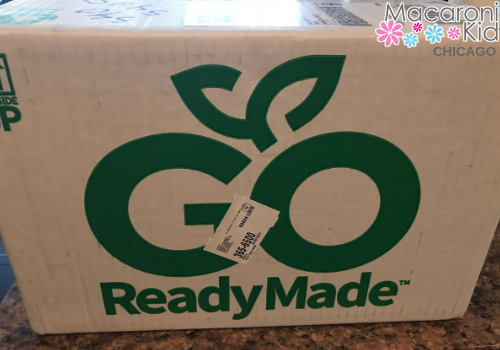 GoReadyMade is a service that provides fresh, healthy meals delivered to your home each week. You can select a subscription that meets your own needs, whether that is a dinner for a small family or a daily meal for one or two people. I was looking for a healthy, balanced lunch option that was quick, so I selected a plan that delivered six fresh meals. It was simple to set up my account, select my meals and my start date. The hardest part was waiting for the first box to arrive!
The day my first box arrived was probably one of the busiest days I have had since going back to work. It was one of those non-stop, 12 hour days and I was just mentally reviewing dinner options that would facilitate a quick and easy dinner and bedtime for the kids when I saw my GoReadyMade box sitting by the front door. Yes! I was just saved from having to eat a fairly boring "kid dinner" out of exhaustion and need from simplicity. I wasted no time selecting a meal (Orzo with Tomatoes!) and in less than 5 minutes it was plated and ready to eat at the table with my children! The best part was that I didn't have to sacrifice taste, or variety, for speed. The meal was colorful with cherry tomatoes, red peppers, corn, spinach, and a light sauce and tasted so good. It wasn't over salted and in fact, I didn't find the need to season it at all.
The first meal lived up to the promise of fresh, healthy and quick (all the nutritional information is printed right on the packaging for you) and I can't wait to try the other five meals I received. I think this may be a game changer for my lunches and dinners!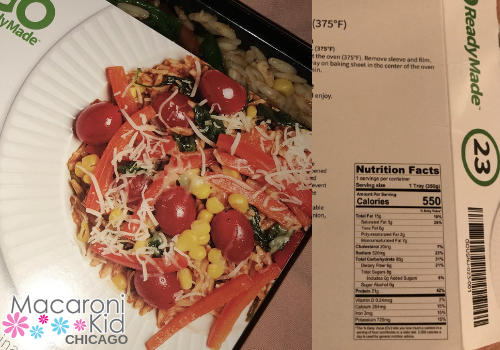 If you would like to try GoReadyMade then use promo code MKSARA60 and receive $20 off your first 3 boxes! Menu options are updated frequently and there are plenty of delicious, fresh, meals for all preferences.
*I received free meals in exchange for this review, but all opinions are my own